Concourse Connector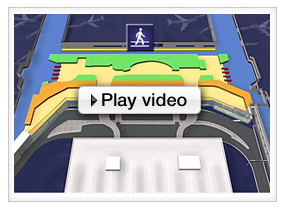 PDX Concourse Connector Provides Easy Access Between North and South Concourses
The Concourse Connector joins the airport's south concourses (A, B & C) with the north concourses (D & E). The passageway allows travelers who have cleared airport security to move freely between the north and south concourses without additional screening. Moving sidewalks provide fast and easy access between concourses.
By connecting all PDX concourses, the connector allows security-screened passengers:
simplified access to flight connections between airlines
a choice between the north or south security checkpoints–regardless of where a flight departs
access to all of the airport's award-winning shops and restaurants located throughout the post-security areas of the airport
Near the center of the Concourse Connector you will find an unrestricted view of the airfield and a bay window with seating.